As in all industries today, continuous advances in technology are changing the face of the Fire Protection sector.  Our excellent, longstanding relationships with our Suppliers ensure AEFS is not only up-to-date with the latest equipment but also have an insight into emerging technologies that are on the horizon.
AEFS prioritise the training of our people to ensure they are fully equipped to recommend, source, install and maintain everything from the latest wireless smoke detector solutions to integrations with sophisticated Building Management Systems.
Just as importantly, we understand the benefits (to us and our clients) of using the best technology available to run our business.  For this reason, we use a custom-built Service & Maintenance software that has been specifically designed for the Australian and New Zealand Fire Protection industries.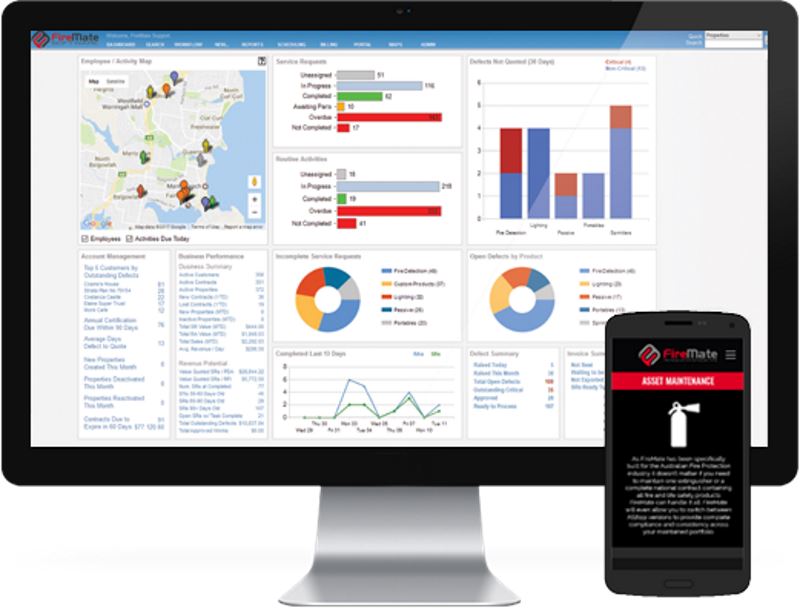 FireMate has been designed and developed in Australia to assist fire protection contractors manage the requirements of Australian Standards AS1851 and the relevant New Zealand Standards.
The application is preloaded with all versions df AS1851 and other state based legislative requirements.
With FireMate we can deliver:

Automatic Compliance Reporting

End to End Asset Management

Job Scheduling

Defect Quoting

Invoicing through the simplest possible workflows.
On the road, all of our technicians access the application via their mobile devices that are synchronised with a central server. This electronic workflow decreases paperwork, and increases accuracy and productivity by enabling them to:

receive new job allocations

log details of work completed

use their device to photograph faulty equipment (and even attach the image to a specific work order) 

obtain 'on-the-spot' client approval to proceed with works 
 The other great benefit for our clients is that you can access information on your sites via a web-based Customer Portal.